Life OK Launches It's New TV Show Nagarjun...EkYoddha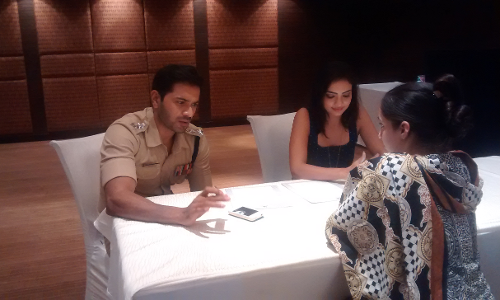 Life OK launched its Tv show, Nagarjun...EkYoddha. The show would be relayed from Monday. It derives its storyline rooted from Mahabharata . Not many know that the Naagas played a very important role at junctures in the Mahabharata. Nagarjun...Ek Yoddha star casts, Pooja Banerjee(Noorie) and Mrunal Jain(Rajveer, Shankachurna) talk exclusively to this writer.
Pooja: How has your acting career been so far?
Mrunal: My acting career has been slow but steady . From Kahaani Humare Mahabharata ki, Banadini, Hitler Didi to Utaran- which really gave me a leap . As of now, Nagarjun...Ek Yodha feels like new phase after a gap of time.
Pooja: In my career of acting, I have always done different shows, which don't have typical soap content. I loved my roles in Ek Doosre Se Karte Hain Pyaar, Crime Patrol, Chhanchhan and others. One thing I am stark clear about is I wouldn't do Saas-bahu for everyone's doing those roles rather I want to do something beyond mainstream. How challenging was your role as Rajveer, Shankachurna and Noorie respectively?
Mrunal: For the first time I am playing a negative character in life. When EkYoddha approached to me, I was very hesitant to do it but then I was reminded of negative roles done by big actors such as Hrithik Roshan, Shahrukh Khan which gave them popularity, audience too loved their roles thus, this helped a bit to take up a negative role. The role was challenging for me as I have to wear heavy costume and deliver my line in Sankacharna character. I also play Rajveer where I am playing the cop.
Pooja: My role plays the love interest of Arjun and brings forth a romantic angle in the storyline. My character(Noorie) adds a dash of romance and emotions to the show, which is otherwise full of adventure, drama and action. Roles were indeed challenging but when your whole team is sweet and full of fun, one thrives. What is the secret of your fitness, do you do Yoga?
Mrunal: Fortunately, I am a fitness freak, I hit gym regularly. No, I don't do Yoga for the fear of missing gym but I know I should. Because Prime Minister has glamorised Yoga all over, now I think I must start doing it soon.
Pooja: It varies time to time but I make sure to keep a balance. I eat a lot, remain active, hog a lot but at the same, it's necessary to keep a balance. Yes, I do Yoga whenever I get time. The irony is that westerners do it more than us. The hidden secret about Yoga is you don't know whether you're losing or not yet you would feel high and calm. Does TRP affect you?
Mrunal: We cannot do anything about TRP's but yes, TRP's upset me when you have really worked hard and still the TRP remains low but can we do anything about it? Channels are also under pressure. Pooja: It affects everybody when you don't get back as much as you deserve for something you worked with all your hearts but at the end of the day, like Mrunal said, you cannot do anything about it except keep working hard