New Delhi : A Facebook group called Proud to be Indian had a post about educated individuals breaking the rules of eating food inside the compartment and refused to stop despite a warning. The post has now gone viral.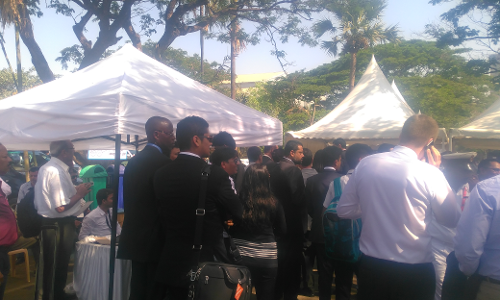 Bombay Exhibition Centre, Goregaon : I went to Maritime Summit in Mumbai today. The delegates really had a very tough time during the event. The registration timing mentioned in the schedule was 7.30-8.30, but still there was no representative of FICCI who would attend the delegates. A lot of confusion was there due to various security issues. It was really an example of mismanagement on the part of FICCI.
Sabarimala, Kerala : Sabarimala temple is one of the few temples that welcomes men and women of every caste. But, women of age between 10-50 are not allowed to enter the temple due to the popular belief that the menstrual cycle is signified as "impure". However the real reason for this tradition is based on mythologies.
Crime
10 Facts About The Orlando Shooter, Omaar Mateen

New Delhi: 10 quick facts about Omar Mateen, a 29-year-old U.S.-born citizen who is the suspect in the Orlando shooting that killed at least 50 people in a gay club. This article will give you personal information about shooter.
Developments
Is S.A.E Club Making NIT Kurukshetra The Detroit Of Haryana?

Kurukshetra:S.A.E NIT Kurukshetra Collegiate club is a body that provides a platform to exercise and sharpen the skills that would be required in the practical world. It started its journey with a handful of focused and passionate students in the year 2009. The club has already participated in three national level competitions.
Need to Know
Plantation Took Over The Unexpected Area.

Block 7, Tilak Nagar, New DelhiAt the main market of Tilak Nagar and also the opposite of Tilak Nagar metro station, the trees were established in the divider. Earlier the divider had supporter of metal which had occupied lot of space and was of no use. The idea of installation of trees was to promote greenery over the area as this area always remain into polluted situations. Tilak Nagar's MLA Mrs Ritu Vohra licensed this establishment of trees. Within the less time and with the labour of 10-12 labourers this was fulfilled.
Happenings
First Youth Speak Forum At NIT Kurukshetra

NIT Kurukshetra:NIT Kurukshetra witnessed its first ever Youth Speak Program that had revolutionary individuals speaking and inspiring young minds on April 28th 2015. The speakers who addressed the gathering were Dr. Santosh Dahiya, Ms Ihitashri Shandilya and Mr. Sumit Shahi.