Was Isak Chisi Swu Struggle For Peace Accord Worth It?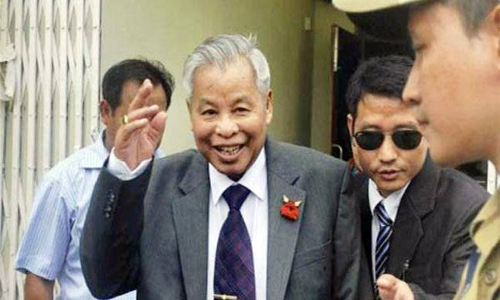 Isak Chisi Swu, co-founder of the National Socialist Council of Nagaland-Isak-Muivah (NSCN-IM), died in a New Delhi hospital on Tuesday. His struggle for peace has been longer than Mahatma Gandhi's or Nelson Mandela. His death has once again raised the question of the Naga peace accord, the framework of which was agreed upon by Prime Minister Narendra Modi last year. Swu's aim was to end insurgency in Nagaland. The government had in August last year signed an accord with the NSCN-IM with the presence of Prime Minister, Home Minister Rajnath Singh and National Security Adviser Ajit Doval by the outfit's leader T Muivah and government's interlocutor RN Ravi at the PM's residence. This was considered historic step to usher in peace in the state.
The NSCN-IM wanted a "Greater Nagalim" comprising of all contiguous Naga-inhabited areas, along with Nagaland. That included districts of Assam, Arunachal and Manipur, as also a large tract of Myanmar. The map of "Greater Nagalim" has about 1,20,000 sq km, while the state of Nagaland consists of 16,527 sq km. The claims have always kept Assam, Manipur and Arunachal Pradesh wary of a peace settlement that might affect their territories. The Nagaland Assembly has endorsed the 'Greater Nagalim' demand — "Integration of all Naga-inhabited contiguous areas under one administrative umbrella" — as many as five times: in December 1964, August 1970, September 1994, December 2003 and as recently as on July 27, 2015.
After over 80 rounds of negotiations that spanned 16 years with first breakthrough in 1997 when the ceasefire agreement was sealed a pact was signed! While National Socialist Council of Nagaland (Isaac-Muivah) is the biggest Naga rebel group which has been maintaining the ceasefire.
Now, the government denied having agreed to a proposal of Naga insurgent outfit NSCN-IM of granting separate passport and flag for Nagas saying peace talks with the group was still continuing. One must wonder after over 50 years of trying to achieve a peace accord and then denied before Swu's death. Was the whole struggle worth it?